Armenians took to the polling stations for first parliamentary elections since the changes in the constitution. One thing I absolutely loved this time around was the fact that the people could vote for individuals in the parliament, as opposed to a single party overall. Perhaps that is what emboldened many to pick the Republican Party, particularly since the party members are widespread and generally have a great following in their respective regions. When you have heads of tops charitable organisations, well-known doctors and the like, it is hard to forgo voting for the one you know and respect just because of their party affiliations. Particularly for the older voters, there are many old-timers in the community that they have befriended or worked for over the years. The most important thing to note is that there is a growing voter awareness of responsibilities and the beginnings of a positive opposition creation that focuses its efforts on building versus empty promises. What all top 4 parties/alliances have promised is a change for the better, a more fair and peaceful future. We will be holding them to that promise. Most of the rest of the 9 parties/alliances barely made it to 2%, with the Communists falling towards the end. Hopefully, that means that Communist mentality is now squarely put behind us and we look ahead towards a social capitalist republic that thrives under its rulers over the next 5 years, no matter the party to which they belong. The people need hope more than anything else. Bring them that, give them the care they crave, and they will be ever loyal. That we can easily see.
We had been promised a fair vote this time of course, as with every other election, but once again there were problems. More on that later, though. First, the basic facts:
Elections began at 8 am and continued until 8 pm. The counting of the votes continued well into April 3rd.
There are 9 parties that one can vote for, with the number of candidates per presented here in accordance with the lists placed on elections.am (minority candidates include Yezidi, Russian, Assyrian and Kurd individuals):

1- Yelk Alliance "Election, Change, Victory" – 121 candidate names, 3 crossed out
2- Free Democratic Party "We Can" – 101 candidates
3- Armenian Renaissance Party "Vote for Change, Vote for Renaissance" – 300 candidate names, 15 crossed out + 3 minority candidates
4- Tsarukyan Alliance "Time to Change and Build" – 188 candidate names, 1 crossed out + 3 minority candidates
5- Armenian National Congress-PPA Alliance "A Program of Telling People the Truth" – 139 candidate names, 5 crossed out + 5 minority candidates
6- Republican Party of Armenia "Security and Progress" – 197 candidates + 16 minority candidates
7- Communist Party of Armenia "Motherland, Labor, Socialism" – 173 candidate names, 10 crossed out
8- Ohanyan-Raffi-Oskanyan Alliance "Heritage, Unity, Victory" – 148 candidate names, 8 crossed out
9- Armenian Revolutionary Federation Party "A New Beginning, A New Armenia" – 171 candidates

With a total of 4 Alliances and 5 Parties, 1539 possible candidates exist to choose from
The Republican Party is the only one with competing candidates for the four spots reserved for minorities

Parties require a 5% threshold to pass, while alliances need the 7%. If no party or alliance manages to obtain a 54% majority, a second round will be held after a 28 day period, unless a coalition is formed between two parties or two alliances.
The election live cameras were not working for many hours, until after 11:30 pm – they could be found at http://electionsonline.am/
Bots and trolls from Russia and Azerbaijan began spreading misinformation from the very beginning

According to Mediamax numbers, there have been more voters before 11 am this year than in 2007, but less than in 2012

Live Coverages were available through CivilNetTV and Azatutyan Youtube channels, as well as a live blog off EVN Report by Maria Titizian
Citizen Observer's coverage:

TUMO centre has created a lovely infographic on the average age of the MP candidates per party/alliance:

According to Samvel Martirosyan, a total of 28,021 observers from 49 NGOs participated in these elections. The full list can be found on his Facebook post.
As of 8 pm, exit poll takes into account 30,000 individuals, taking place at 125 polling stations. Those who pass are the Republican Party, Tsarukyan Alliance, Yelk Alliance, and ARF Party

Voters from each province did not reach 70%. Only just over half of Yerevan's population came out to vote:

Yerevan – 56.7%

Between the 4 regions, will have a max of 54 MPs

Ararat – 68.6%
Armavir – 55.5%
Aragadzotn – 66.6%
Gegharkunik -67%
Lori – 58%
Kotayk – 59%
Shirak – 57.8%
Vayodz Dzor + Syunik – 66.9%
Tavush – 66.3%
All together – 60.86%
For more infographics about #ArmVote2017, check out http://armvote17.infographics.am/
Electronic vote results:

Final results appeared April 3rd at 11 am. Winners are:

RPA: 49.15%
Tsarukyan Alliance: 27.37%
Yelk Alliance: 7.78%
ARF: 6.59%
Armenian Renaissance Party: 3.72%
ORO Alliance: 2.08%
Congress-PPA Alliance: 1.65%
Free Democratic Party: 0.94%
Communist Party: 0.75%
___________________________________________________________________________________________
Top News
Before the start of the elections, there were reports of top independent journalist Twitter account suspensions, including @reporterarm @stepangrig @Hetq_Trace @civilnetTV @Support
Robert Kocharyan was not in the country and did not vote. All the rest of the former presidents and prime ministers were seen at the voting stations.
As of 11 am, citizen observer confirmed 33 reports of violations

As of 11 am, 13.32% of voters had already voted
As of 12 pm, 436 violations have been registered, 14% pertaining to voter anonymity, 7% to voter guidance, 5% to voter identification verification, 5% to helping voters, and 3% to procedures at the polling stations
As of 12 pm:



One particularly strange violation is the appearance of 30 non-local individuals with newly printed passports, according to the Bright Armenia Party twitter page.
Another strange moment was when an invalid passport became valid within a 15 minute time period
Certain villagers having trouble with getting their fingerprints accepted by the voting machines. Other places claim that only 1 out of 10 fingerprints are recognized.
Overcrowding and problems with equipment were registered all over the country
At the 20/01 precinct in the city of Sevan, voter cards were handed out with the ruling party already voted for. 220 people had already voted before this was found out.
At around 2 pm, "Azatutyan" reporter is attacked by Republicans when filming bribery attempts – https://t.co/HYLf0uOhuy
At around 2 pm, Citizen Observer registers 162 electoral violations.
Some police clashes have occurred throughout the country as per Twitter posts from different precincts.
As of 2 pm, General Prosecutor's office received 729 reports of violations, 75 with instances of criminal activity, according to EVN Report
As of 2 pm, 33.46% of eligible voters had cast their votes, meaning that there is a total of 865,884 out of 2,587,706 persons who have already shown up:

Rather interesting was the fact that in Hrazdan, the 1000th voter was given chocolates :D
As of 3 pm, the General Prosecutor's office recorded 970 violations
As of 4 pm:

As of 5:20 pm, 1551 violations had been registered through Citizen Observer. Most alarms received came from the following precincts:

Specific violations have been recorded on the EVN Yerevan live blog. It appears that by 8 pm, 1838 violations had been reported, a mich higher number than the 1077 during the 2015 referendum
Azatutyan TV presents 226 violations that have been confirmed and addressed throughout the process
Citizen Observer's overall count:

Independent Observer's numbers:


As of midnight, going into April 3, the Republican Party leads with 47% of the 100,560 votes counted. Within 30 minutes, 54% of precincts have been accounted for, RPA leading with 63.03%, followed by Tsarukyan Alliance at 19.47%.
As of 1 am, RPA leading with 55.58%, Tsarukyan with 23.04%, Yelk with 4.29%. However, there are reports on Twitter that RPA is holding only 48.16%, while the Central Bank gives much higher numbers at 59.99%. The official numbers can be followed on the very badly coded elections web page: http://www.elections.am/flash/web/default.aspx 
Hraztan's Vanatur village marks first precinct (26/14) where Yelk is the clear winner, with Hraztan in general looking towards Yelk for its way to a better future.
As of 9 am, April 3, the votes are still being counted, with the top 4 still keeping their positions, albeit with a slightly weaker Yelk. For a while, the RPA was leading with over 65%, before dropping under 50% as the numbers kept trickling in.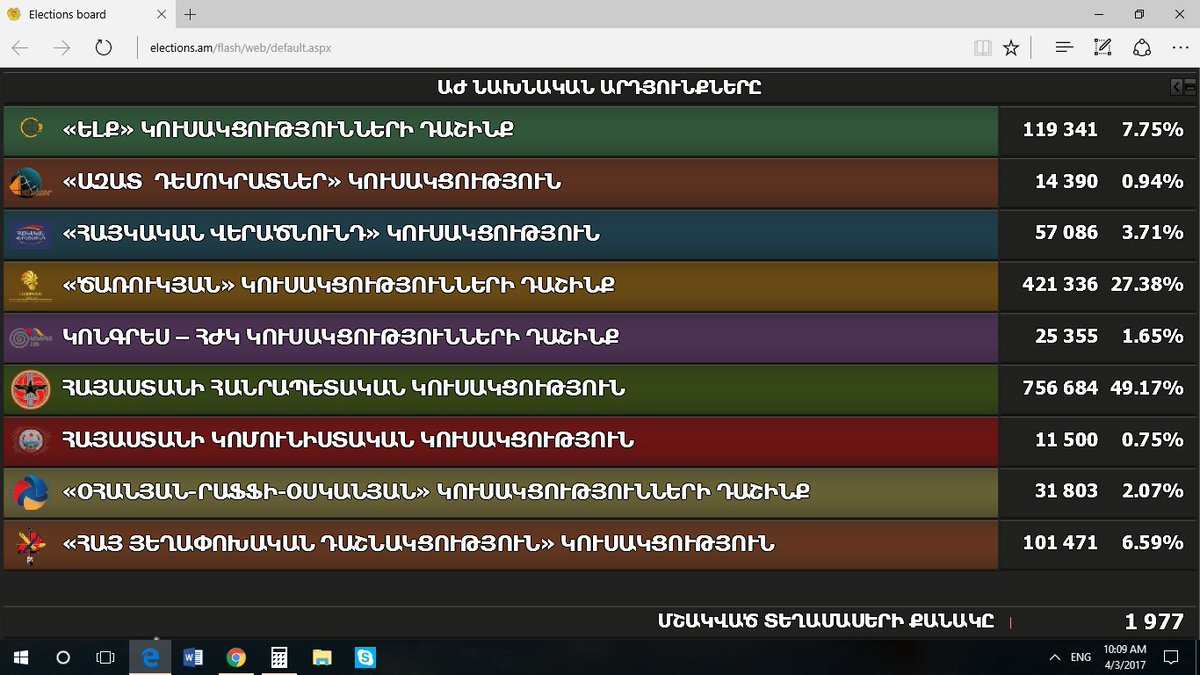 Interesting Observers and Voters Around the Country
Atom Egoyan in Berkaber

Arsinee Khanjian in Shake village

Batman makes an appearance


And then there are these: