it amuses me to no end to read hashtag wars concerning any topic, but when it's about 2 men clearly coming onto Artsakh (Karabakh) territory and, according to Armenian sources, killed 2 and wounding one, I must say that the Azerbaijani claims are perfectly laughable. When near every post admits those men were captured on "occupied" territory, one must begin to question the level of brainwashing in that hostile nation. Now, you will notice that I used words like "claim" and "occupied" and this is not because I actually believe it's but a claim or Armenians have occupied the territory, but simply for niceties sake. After all, it's always good to give one the benefit of a doubt.
Suppose they did not come into Armenian lands to kill, steal, or take back information to their commanders. Suppose they are the innocent villagers #SaveAzeHostages claims them to be. They most certainly were on land that doesn't currently belong to them, coming in from a country that instills hostility in its people towards the people living in the independent state, and they wouldn't have come in just for a stroll about the grounds. I'm not sure if it takes a rocket scientist to figure this one out, but no matter what they were doing, they had to pass a border that's closely guarded by the army (meaning they knew where they may have been openings, how to skirt around the security and exactly where to go once in. And then there's the whole issue of the dead teenager, the dead soldier and the wounded mother of 2. Suppose they didn't do it, that they truly were there to visit dead relatives' graves. I don't know about you, but that sounds a little absurd to me.
For a look into the fake profiles and the beginning of this particular hashtag war, check out this post by Katy Pearce. Hits the nail on the head as always.
Shahbaz Quliyev, 46, and Dilham Askerov, 54, are charged with murder, espionage, illegal border crossing, and illegal weapons possession. The trial began in Stepanakert on October 27. There had been a 3rd in the group but he was killed during the sabotage attempt in the summer, when the three came in through Qarvachar. The body of the third was given over to Azerbaijan last month, while the trial continues after the first session took place 2 days ago.
What is the hashtag war all about? We have #AzeSaboteurs on one side while #SaveAzeHostages is fighting on the other. The Armenian side does not have any fake accounts (would be pretty useless anyway) while the majority of posters on the Azerbaijani side are controlled by one main account connected to the president of the ruling party's youth wing. The images below show propaganda from both sides. The first has an image of a little girl asking for her father back (who is she really? is this photoshopped? Lots of questions), while the Armenian side has photoshopped the image to show what the paper in her hands SHOULD say. She does rather remind us of an Armenian child too. Who knows?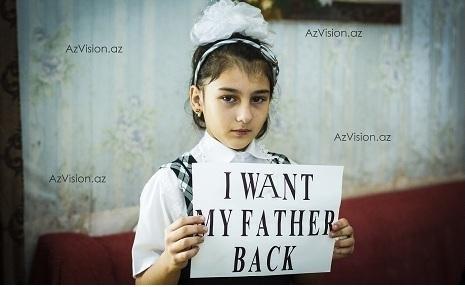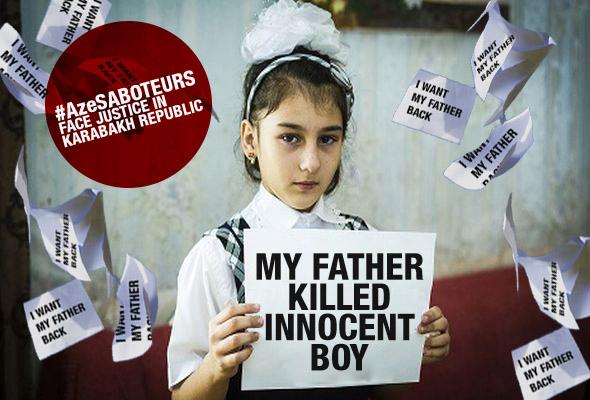 Armenian posters depicting the fatalities of the infiltration onto Artsakh soil show not hostility per se, but truly throw the facts into the faces of those who dare insinuate that a mobilized infiltration into the territory was done to see a single grave. The absurdity of the notion is insulting to those who should have to hear the explanation. A hostage would be if one was held for something in return, say to refrain from war, to have the government give in to a certain demand, etc. In this case, the "hostages" were caught, have confessed to theft, are expected to confess to the murders, and are currently on trial. Should they have been "returned" to Azerbaijan, we can imagine that these men would receive state honours, just like Ramil Safarov.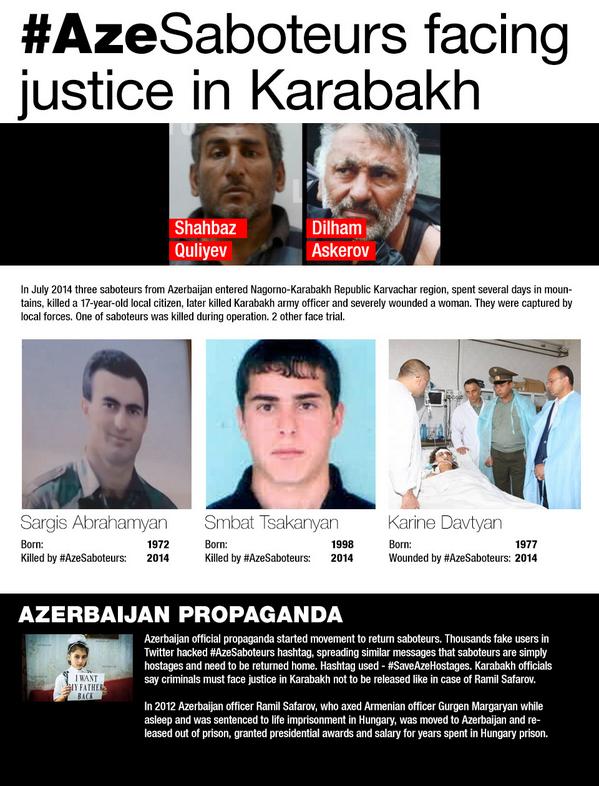 On the other hand, should the roles have been reversed and an Armenian caught on Azerbaijani land, torture and death is what awaited him or her. I highly doubt exceptions would have been made if a woman decided to go "visit the grave of her mother or grandmother." The question now might be, "why would you visit a grave in a place where you know you'll be taken, tortured, and/or killed (raped as well most probably)?" Now pose that question to Azerbaijan. Unless, of course, the people believe Armenians are kind and allow "innocent" men to come into their territory untouched while there's a 99.9% possibility that the one coming in is a spy or saboteur. I'm not quite sure which is more absurd: believing the men coming over the border secretly were thinking benign thoughts or actually concocting such a silly tale in the first place.